DALLAS (FWAA) – The Southern California Trojans remain the top-ranked team in this week's Grantland Rice Super 16 Poll. USC (8-0), the defending Football Writers Association of America national champs, garnered four additional No. 1 votes votes after beating Washington State, 42-12, to win their 17th straight game. USC now has a season-high 14 first-place votes in the poll.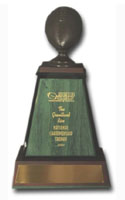 The Grantland
Rice Trophy
Oklahoma (8-0) stayed at No. 2 after its hard-fought 38-35 win at Oklahoma State. The Sooners were voted No. 1 by one of the pollsters and Auburn (9-0), for the third straight week, notched the other top vote and is third in the poll. Only seven poll points separate the Sooners and Tigers.
After an off week, Wisconsin (8-0) moved up to the No. 4 spot and California (6-1), fresh of back-to-back shutouts, checked in at No. 5. Miami (6-1) and Florida State (6-2) suffered defeats this week and dropped in the poll. The Seminoles are the only team with two losses among the Super 16.
The Grantland Rice Super 16 Poll, introduced prior to the 2002 season, ranks the nation's top 16 Division I-A football teams. A regionally-balanced group of 16 selectors votes in the poll. The pollsters also select the FedEx Orange Bowl National Team of the Week, which is also announced each Monday during the regular season.
In addition, the 16 voters representing four regions, cast a ballot each week and give a brief synopsis of their ballot. Unlike other college football polls, the FWAA makes each of its pollster's ballot public, along with the weekly synopsis.
West Virginia, after beating Rutgers to improve to 7-1, is the only new team in the poll. The Mountaineers, who replaced Texas A&M in the poll, are ranked 16th and give the Big East Conference a team in the rankings. Among nine conferences represented in the Super 16, the ACC and SEC each feature three teams among the Top 16.
• Click here to see how and why each pollster voted
The complete poll for Nov. 1 is as follows:
FWAA GRANTLAND RICE SUPER 16 POLL (NOV. 1, 2004)
Rk.
School [1st]
Conf.
W-L
Pts
Pvs
This Week (Nov. 6)
1.
USC [14]
Pac-10
8-0
254
1
at Oregon State
2.
Oklahoma [1]
Big 12
8-0
236
2
at Texas A&M
3.
Auburn [1]
SEC
9-0
229
3
Idle
4.
Wisconsin
Big Ten
8-0
194
5
vs. Minnesota
5.
California
Pac-10
6-1
183
7
vs. Oregon
6.
Utah
MWC
8-0
163
8
vs. Colorado State
7.
Georgia
SEC
7-1
150
t9
at Kentucky
8.
Texas
Big 12
7-1
144
t9
vs. Oklahoma State
9.
Tennessee
SEC
7-1
128
11
vs. Notre Dame
10.
Miami
ACC
6-1
115
4
vs. Clemson
11.
Michigan
Big Ten
8-1
114
12
Idle
12.
Louisville
C-USA
5-1
64
13
at Memphis (Nov. 4)
13.
Virginia
ACC
6-1
59
14
vs. Maryland
14.
Boise State
WAC
8-0
54
16
Idle
15.
Florida State
ACC
6-2
41
6
vs. Duke
16.
West Virginia
Big East
7-1
28
-
vs. Temple
FedEx Orange Bowl National Team of the Week: North Carolina.
First-place votes: USC 14 (Blaudschun, Coyle, Davis, Dodd, Fiutak, Henson, Higgins, Mandel, Meisler, Miller, Moran, Richards, Robbins, Shain); Oklahoma 1 (Burchette); Auburn 1 (Griffith).
Also receiving votes: Virginia Tech 8, Oklahoma State 4, LSU 3, Arizona State 2, Iowa 2, Southern Miss 1.
Dropped out: Texas A&M (15).
By conference: ACC 3, SEC 3, Big Ten 2, Big 12 2, Pac-10 2, Big East 1, Conference USA 1, Mountain West 1, WAC 1.
The FWAA has presented the Grantland Rice Trophy, named in honor of the legendary sportswriter, to college football's national champion each year since 1954. This is the third season that a season-long poll will be concurrent with the award.
For further information contact Steve Richardson, Executive Director of the FWAA (972-713-6198, tiger@sportswriters.net) or Ted Gangi, FWAA webmaster (214-823-7992, webmaster@sportswriters.net).