ORLANDO, Fla. (FWAA) – The Football Writers Association of America's 61st All-America Team was announced on Saturday afternoon during a televised program on ABC Sports from the ABC Theater at Disney-MGM studios.
The FWAA All-America Team, the second-longest continuously-published team in college football, has been a staple of college football since 1944. But this is the first time in 15 years the team has been shown on television, during a program sponsored by Cingular.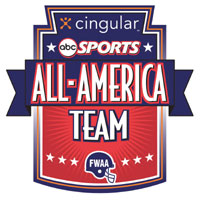 Big Ten co-champion Michigan led all teams with four players on the FWAA's 25-man team – senior offensive lineman David Baas, senior wide receiver Braylon Edwards and two defensive backs, seniors Marlin Jackson and Ernest Shazor.
Oklahoma, which placed six players on the FWAA team a year ago, was next with three – standout freshman running back Adrian Peterson, senior offensive tackle Jammal Brown, the Outland Trophy winner, and senior defensive end Dan Cody.
Peterson is the only freshman on the team, which includes two sophomores.
Top-ranked USC had two players on the team, sophomore kick returner Reggie Bush and senior defensive lineman Shaun Cody. The other sophomore on the FWAA team was Michigan State punter Brandon Fields.
There were four FWAA All-Americans from teams other than those in the six major Bowl Championship Series conferences.
Mountain West Conference champion Utah placed quarterback Alex Smith and senior offensive lineman Chris Kemoeatu on the team.
Southern Mississippi senior linebacker Michael Boley from Conference USA and Marshall senior defensive end Jonathan Goddard from the Mid-American Conference were the other selections from the smaller leagues.
And there were two repeat FWAA All-Americas from a year ago, Texas senior linebacker Derrick Johnson and Florida State senior offensive tackle Alex Barron. Georgia end David Pollack, another senior who was named the Lombardi Trophy winner, made the team two years ago as a sophomore.
2004 FWAA ALL-AMERICA TEAM
OFFENSE
QB
Alex Smith, Utah
6-4
212
Jr.
La Mesa, Calif.
RB
J.J. Arrington, California
5-10
210
Sr.
Nashville, N.C.
RB
Adrian Peterson, Oklahoma
6-2
210
Fr.
Palestine, Texas
WR
Braylon Edwards, Michigan
6-3
208
Sr.
Detroit, Mich.
WR
Taylor Stubblefield, Purdue
6-1
182
Sr.
Yakima, Wash.
TE
Heath Miller, Virginia
6-5
255
Jr.
Swords Creek, Va.
OL
David Baas, Michigan
6-5
323
Sr.
Sarasota, Fla.
OL
Alex Barron, Florida State
6-6
308
Sr.
Orangeburg, S.C.
OL
Jammal Brown, Oklahoma
6-6
313
Sr.
Lawton, Okla.
OL
Chris Kemoeatu, Utah
6-4
338
Jr.
Kahuku, Hawaii
C
Greg Eslinger, Minnesota
6-3
285
Jr.
Bismarck, N.D.
DEFENSE
DL
Dan Cody, Oklahoma
6-5
270
Sr.
Ada, Okla.
DL
Shaun Cody, USC
6-4
295
Sr.
Hacienda, Calif.
DL
Jonathan Goddard, Marshall
6-0
245
Sr.
Jacksonville, Fla.
DL
Erasmus James, Wisconsin
6-4
283
Sr.
Pembroke Pines, Fla.
DL
David Pollack, Georgia
6-3
261
Sr.
Snellville, Ga.
LB
Michael Boley, Southern Miss
6-3
228
Sr.
Athens, Ala.
LB
Derrick Johnson, Texas
6-4
230
Sr.
Waco, Texas
DB
Marlon Jackson, Michigan
6-1
196
Sr.
Sharon, Pa.
DB
Carlos Rogers, Auburn
6-1
200
Sr.
Augusta, Ga.
DB
Antrel Rolle, Miami
6-1
202
Sr.
Homestead, Fla.
DB
Ernest Shazor, Michigan
6-4
229
Sr.
Detroit, Mich.
SPECIALISTS
K
Mike Nugent, Ohio State
5-10
180
Sr.
Centerville, Ohio
P
Brandon Fields, Michigan State
6-6
234
So.
Toledo, Ohio
KR
Reggie Bush, USC
6-0
200
So.
Spring Valley, Calif.
First selected three years after the organization was formed, the FWAA's inaugural team in 1944 included Army's Heisman Trophy tandem of Doc Blanchard and Glenn Davis and Georgia Tech's Frank Broyles, who later became Arkansas' head football coach and athletic director.
Over the years, the FWAA Team has highlighted all the game's great players in several media forums.
From 1946-70, LOOK Magazine published the FWAA team and brought players and selected writers to New York City for a celebration. During that 25-year period, the FWAA team was introduced on national television shows hosted by Bob Hope, Steve Allen, Perry Como and others.
After LOOK folded, the FWAA started a long association with NCAA Films (later known as NCAA Productions), which produced a 30-minute television show and sold it to sponsors. The team was part of ABC television's 1981 college football series.
From 1983-90, the team was either on ABC or ESPN, and now has returned to the national spotlight on ABC.
The FWAA team has included most of the Heisman Trophy and Maxwell Award winners over the years and Outland Trophy winners. Those are the three oldest awards in major-college football.
Included in the list of FWAA All-America alumni is USC's Lynn Swann (1973), who was the master of ceremonies at this year's banquet. Another FWAA All-American, SMU's Jerry LeVias, the first African-American scholarship player in the Southwest Conference, was presented an Alumni Award here for his courage and performance during his career with the Mustangs. LeVias was an FWAA All-America in 1968.

This is the third year Florida Citrus Sports has hosted a gala celebration for the team in Orlando. FCS brings all the members of the team to one spot to honor them with a banquet.
The combination of Cingular's sponsorship of the one-hour television presentation on ABC and the Team Celebration Banquet is believed to be the first time the same team has been honored in such a dual fashion.
For 61 years, the FWAA has selected an All-America team with the help of its members and an All-America Committee, which represents each regions in the country.
Some of the true greats of the writing profession have helped to select this team over the years – Grantland Rice, Bert McGrane, Blackie Sherrod, Furman Bisher, Pat Harmon, Fred Russell, Edwin Pope, Murray Olderman, Paul Zimmerman and the list goes on and on.
For more information about the FWAA All-America Team and other FWAA awards, go to www.footballwriters.com.
Related links:
• FWAA All-America Team (www.allamericateam.com)
• Cingular/ABC Sports All-America Banquet program (.pdf)