DALLAS (FWAA) – For the second straight season, the Oklahoma Sooners are the preseason favorite in the Grantland Rice Super 16 Poll as voted by the 16 pollsters of the Football Writers Association of America. Oklahoma is among three Big 12 teams in the Super 16.
The poll made its debut last season and will resume in the regular season on Mon., Oct 13 and each subsequent Monday through December 8. Following the conclusion of the Bowl Championship Series, a final poll, to be released on Jan. 5 in New Orleans, will be used to determine the 2003 Grantland Rice Trophy winner.
The FWAA has presented its national championship trophy, named in honor of the legendary sportswriter, each year since 1954. This is the second year that a season-long poll will be concurrent with the award. Oklahoma has won the Grantland Rice Trophy four times, last in 2000.
Each of the 16 voters, representing four regions, not only will cast a ballot each week, but give a brief synopsis of his ballot. Unlike other college football polls, the FWAA is making each of its pollsters' ballots public, along with the weekly synopsis.
• Click here to see how and why each pollster voted
Following is the complete 2003 Preseason Grantland Rice Super 16 Poll:
School [1st Place Votes]
*W-L
Pts.
Opening Game
1.
Oklahoma [10]
12-2
246
Aug. 30 vs. North Texas
2.
Ohio State [4]
14-0
220
Aug. 30 vs. Washington
3.
Miami (Fla.)
12-1
210
Aug. 28 at Louisiana Tech
4.
Auburn
9-4
195
Aug. 30 vs. Southern California
5.
Kansas State [2]
11-2
177
Aug. 23 vs. California
6.
Texas
11-2
166
Aug. 31 vs. New Mexico State
7.
Michigan
10-3
159
Aug. 30 vs. Central Michigan
8.
Virginia Tech
10-4
142
Aug. 31 vs. UCF
9.
Southern California
11-2
135
Aug. 30 at Auburn
10.
Georgia
13-1
99
Aug. 30 at Clemson
11.
Pittsburgh
9-4
96
Sept. 6 vs. Kent State
12.
N.C. State
11-3
67
Aug. 30 vs. Western Carolina
13.
Florida State
9-5
55
Aug. 30 at North Carolina
14.
LSU
8-5
42
Aug. 30 vs. Louisiana-Monroe
15.
Tennessee
8-5
37
Aug. 30 vs. Fresno State
16.
Maryland
11-3
34
Aug. 28 at Northern Illinois

*2002 season
Also receiving votes: Virginia 33, Notre Dame 15, Purdue 12, Washington 11, Oregon State 9, Wisconsin 8, Arkansas 3, Colorado State 2, Oklahoma State 2, Arizona State 1.

First-place votes: Oklahoma (10: Mark Blaudschun, Bob Condotta, Frank Coyle, Dennis Dodd, Mike Griffith, Steve Henson, Bob Moran, Darryl Richards, Joe Schad, Dave Sittler); Ohio State (4: Pete Fuitak, Ron Higgins, Stewart Mandel, Adam Thompson); Kansas State (2: Jordan Burchette, Lenn Robbins).

By conference: SEC (4), ACC (3), Big East (3), Big 12 (3), Big Ten (2), Pac-10 (1).

Oklahoma received ten first-place votes on its way to its preseason No. 1 ranking. Defending national champion Ohio State received foUr No. 1 votes and Kansas State tallied the remaining two top votes.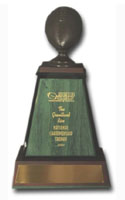 The Grantland
Rice Trophy
"We certainly appreciate the respect our program has received, but our team is very much aware that championships are never won in August," said Oklahoma head coach Bob Stoops. "A high ranking at this time of year simply signifies that the writers value what we've accomplished here and see promise in this team. We appreciate that and are very good about keeping it in perspective. We remain focused on winning championships and that's a long process."
Rounding out the Top 10 are Miami, Auburn, Kansas State, Texas, Michigan, Virginia Tech, Southern California, and Georgia. The SEC – with Auburn, Georgia, LSU, and Tennessee in the preseason poll – leads all conferences with four teams in the Super 16. Three ACC teams are among the the remaining ranked teams, which include Pittsburgh (No. 11), N.C. State (No. 12), Florida State (No. 13) and Maryland (No. 16).
In addition to the weekly ranking, the FWAA will name a national Division I-A Team of the Week during the course of the season, which will also be voted on by the Grantland Rice pollsters. The Team of the Week selections will begin on Mon., Sept. 1.
Both the Grantland Rice Super 16 Poll and the FWAA Team of the Week will be released through the FWAA's official website, www.footballwriters.com, part of www.sportswriters.net.
For further information contact Steve Richardson, Executive Director of the FWAA (972-713-6198, tiger@sportswriters.net) or Ted Gangi, FWAA webmaster (214-823-7992, webmaster@sportswriters.net).
Related Links:
• Grantland Rice Trophy
• Grantland Rice Trophy winners
2003 FWAA/GRANTLAND RICE SUPER 16 POLLSTERS
EAST
SOUTH
MIDWEST
WEST
Mark Blaudschun
Boston Globe
Mike Griffith
Knoxville News-Sentinel
Dennis Dodd
CBS SportsLine
Bob Condotta
Seattle Times
Jordan Burchette
maximonline.com
Ron Higgins
The Commercial Appeal
Pete Fiutak
collegefootballnews.com
Steve Henson
Los Angeles Times
Frank Coyle
MSNBC/draftinsiders.com
Stewart Mandel
si.com
Darryl Richards
Freelance
Bob Moran
East Valley Tribune
Lenn Robbins
New York Post
Jeff Shain
Miami Herald
Dave Sittler
Tulsa World
Adam Thompson
Denver Post