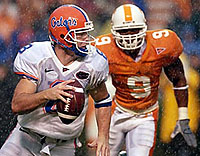 Florida QB Rex Grossman threw three TD passes in the rain in Knoxville. (from gatorzone.com)

DALLAS (FWAA) – The Florida Gators rebounded with a resounding 30-13 win at Tennessee to earn the Football Writers Association of America's "Team of the Week" for games of the weekend of Sept. 21.
The honor is decided by the 16-member panel that votes in the organization's Grantland Rice Super 16 Poll, which has also debuted this season.
Rex Grossman threw two of this three touchdown passes in a 24-point second quarter as the Gators stunned the 108,722 faithful at Neyland Stadium. On the afternoon, Grossman completed 20 of 34 passes for 324 yards.
Other teams drawing consideration this week included San Jose State, which shocked Illinois, 38-35, in Champaign; Notre Dame with its dramatic 21-17 win at Michigan State that moved the Irish to 4-0 for the first time in nine years; and 3-0 Air Force, which upset previously unbeaten Cal, 23-21, in Berkeley.
The FWAA "Team of the Week" will be announced each Monday throughout the season. The Grantland Rice Super 16 Poll, released in the preseason, will resume next Monday, Sept. 30.
The FWAA, in conjunction with the Charlotte Touchdown Club, also awards a Bronko Nagurski National Defensive Player of the Week award each week.
2002 Grantland Rice Super 16 Polls (No. 1 team)
• Preseason: Oklahoma
• Sept. 30: Miami
• Oct. 7: Miami
• Oct. 14: Miami
• Oct. 21: Miami
• Oct. 28: Miami
• Nov. 4: Oklahoma
• Nov. 11: Miami
• Nov. 18: Miami
• Nov. 25: Miami
• Dec. 2: Miami

2002 FWAA Teams of the Week
• Aug. 31: Duke (ended 23-game losing streak)
• Sept. 7: Miami (routed Florida, 41-16, in Gainesville)
• Sept. 14: California (upset Michigan State, 46-22, in East Lansing)
• Sept. 21: Florida (beat Tennessee, 30-13, in Knoxville)
• Sept. 28: Iowa State (beat Nebraska, 36-14)
• Oct. 5: Ole Miss (upset Florida, 17-14)
• Oct. 12: Miami (beat Florida State, 28-27)
• Oct. 19: Arizona State (upset Oregon, 45-42)
• Oct. 26: Notre Dame (beat Florida State, 34-24)
• Nov. 2: Boston College (upset Notre Dame, 14-7)
• Nov. 9: Texas A&M (upset Oklahoma, 30-26)
• Nov. 16: Texas Tech (upset Texas, 42-38)
• Nov. 23: Ohio State (finished the season 13-0)