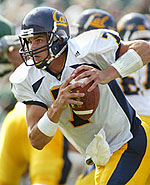 Cal QB Kyle Boller accounted for four touchdowns on Saturday. (from calbears.com)

DALLAS (FWAA) – The California Golden Bears upset Michigan State in East Lansing, 46-22, to earn the Football Writers Association of America's "Team of the Week" for games of the weekend of Sept. 14.
The honor is decided by the 16-member panel that votes in the organization's Grantland Rice Super 16 Poll, which has also debuted this season.
Cal recorded its first road win against a Top 15 team since Oct. 5, 1974. Michigan State was ranked 15th in the Associated Press poll entering the game. Under first-year Coach Jeff Tedford, the Golden Bears are 3-0 for the first time since 1996, Steve Mariucci's only season as head coach in Berkeley.
The Golden Bears surged to a 25-0 halftime lead behind quarterback Kyle Boller. Boller threw a pair of touchdown passes, ran for a score and caught a scoring pass on the day and Joe Igber ran for 108 yards in the win. Cal also forced five Michigan State turnovers on the afternoon.
Other teams drawing consideration this week included Penn State after its 40-7 thrashing of Nebraska; Notre Dame for its 3-0 start, including the 25-23 win over Michigan; and USC with its 40-3 rout at Colorado.
The FWAA "Team of the Week" will be announced each Monday throughout the season. The Grantland Rice Super 16 Poll, released in the preseason, will resume on Monday, Sept. 30.
The FWAA, in conjunction with the Charlotte Touchdown Club, also awards a Bronko Nagurski National Defensive Player of the Week award each week.
2002 Grantland Rice Super 16 Polls (No. 1 team)
• Preseason: Oklahoma
• Sept. 30: Miami
• Oct. 7: Miami
• Oct. 14: Miami
• Oct. 21: Miami
• Oct. 28: Miami
• Nov. 4: Oklahoma
• Nov. 11: Miami
• Nov. 18: Miami
• Nov. 25: Miami
• Dec. 2: Miami

2002 FWAA Teams of the Week
• Aug. 31: Duke (ended 23-game losing streak)
• Sept. 7: Miami (routed Florida, 41-16, in Gainesville)
• Sept. 14: California (upset Michigan State, 46-22, in East Lansing)
• Sept. 21: Florida (beat Tennessee, 30-13, in Knoxville)
• Sept. 28: Iowa State (beat Nebraska, 36-14)
• Oct. 5: Ole Miss (upset Florida, 17-14)
• Oct. 12: Miami (beat Florida State, 28-27)
• Oct. 19: Arizona State (upset Oregon, 45-42)
• Oct. 26: Notre Dame (beat Florida State, 34-24)
• Nov. 2: Boston College (upset Notre Dame, 14-7)
• Nov. 9: Texas A&M (upset Oklahoma, 30-26)
• Nov. 16: Texas Tech (upset Texas, 42-38)
• Nov. 23: Ohio State (finished the season 13-0)