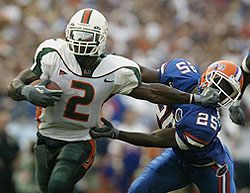 Willis McGahee had 204 rushing yards in the Miami romp. (from hurricanesports.com)

DALLAS (FWAA) – The Miami Hurricanes handed Florida its worst home loss in 23 years, 41-16, and were named the Football Writers Association of America's "Team of the Week" for games of the weekend of Sept. 7.
The honor is decided by the 16-member panel that votes in the organization's Grantland Rice Super 16 Poll, which has also debuted this season.
While Duke nabbed the honor in the season's first week by snapping the nation's longest losing streak at 23, Miami extended its national best winning streak to 24 to get the nod in near unanimous fashion this week.
Quarterback Ken Dorsey threw four touchdown passes and Willis McGahee ran for 204 yards in Miami's win, which marked the first regular-season meeting between the in-state rivals since 1987.
The only other team nominated this week was Kentucky, which blasted UTEP, 77-17, to start its season 2-0 for the just the second time since 1989.
The FWAA "Team of the Week" will be announced each Monday throughout the season. The Grantland Rice Super 16 Poll, released in the preseason, will resume on Monday, Sept. 30.
The FWAA, in conjunction with the Charlotte Touchdown Club, will also resume its Bronko Nagurski National Defensive Player of the Week award this season beginning Tuesday, Sept. 10.
2002 Grantland Rice Super 16 Polls (No. 1 team)
• Preseason: Oklahoma
• Sept. 30: Miami
• Oct. 7: Miami
• Oct. 14: Miami
• Oct. 21: Miami
• Oct. 28: Miami
• Nov. 4: Oklahoma
• Nov. 11: Miami
• Nov. 18: Miami
• Nov. 25: Miami
• Dec. 2: Miami

2002 FWAA Teams of the Week
• Aug. 31: Duke (ended 23-game losing streak)
• Sept. 7: Miami (routed Florida, 41-16, in Gainesville)
• Sept. 14: California (upset Michigan State, 46-22, in East Lansing)
• Sept. 21: Florida (beat Tennessee, 30-13, in Knoxville)
• Sept. 28: Iowa State (beat Nebraska, 36-14)
• Oct. 5: Ole Miss (upset Florida, 17-14)
• Oct. 12: Miami (beat Florida State, 28-27)
• Oct. 19: Arizona State (upset Oregon, 45-42)
• Oct. 26: Notre Dame (beat Florida State, 34-24)
• Nov. 2: Boston College (upset Notre Dame, 14-7)
• Nov. 9: Texas A&M (upset Oklahoma, 30-26)
• Nov. 16: Texas Tech (upset Texas, 42-38)
• Nov. 23: Ohio State (finished the season 13-0)