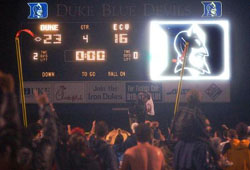 Duke fans were pretty happy last Saturday night. (from goduke.com)

DALLAS (FWAA) – By virtue of their 23-16 win over East Carolina, the Duke Blue Devils have been named as the Football Writers Association of America's "Team of the Week" for games of the weekend of Aug. 31.
The honor is decided by the 16-member panel that votes in the organization's Grantland Rice Super 16 Poll, which has also debuted this season.
Alex Wade ran for 109 yards as Duke built a 20-point lead and then held on for its first win since November 1999 vs. Wake Forest, snapping the nation's longest losing streak at 23 games. After the game, Duke students tore down both goalposts at Wallace Wade Stadium and Duke coach Carl Franks said, "This has to be one of the biggest wins I've been involved with."
Duke was among three winless teams from 2001 that won their lid-lifters. Houston topped crosstown rival Rice, 24-10, to end a 15-game skid and Navy, 0-10 last season and losers of 20 of its previous 21, topped SMU in Dallas, 38-7, in coach Paul Johnson's debut.
Other teams nominated this week included Colorado State on the heels of its upset of Colorado, the 6th-ranked team in the FWAA poll; No. 13 Michigan, for its heart-stopping win over No. 10 Washington; and unranked Notre Dame, which stifled Maryland, 22-0, in coach Tyrone Willingham's debut. Missouri, Cal and Kentucky also received mention.
The FWAA "Team of the Week" will be announced each Monday throughout the season. The extended holiday weekend of action delayed this first announcement.
The Grantland Rice Super 16 Poll, released in the preseason, will resume on Monday, Sept. 30.
The FWAA, in conjunction with the Charlotte Touchdown Club, will also resume its Bronko Nagurski National Defensive Player of the Week award this season beginning after the games of Sept. 7.
2002 Grantland Rice Super 16 Polls (No. 1 team)
• Preseason: Oklahoma
• Sept. 30: Miami
• Oct. 7: Miami
• Oct. 14: Miami
• Oct. 21: Miami
• Oct. 28: Miami
• Nov. 4: Oklahoma
• Nov. 11: Miami
• Nov. 18: Miami
• Nov. 25: Miami
• Dec. 2: Miami

2002 FWAA Teams of the Week
• Aug. 31: Duke (ended 23-game losing streak)
• Sept. 7: Miami (routed Florida, 41-16, in Gainesville)
• Sept. 14: California (upset Michigan State, 46-22, in East Lansing)
• Sept. 21: Florida (beat Tennessee, 30-13, in Knoxville)
• Sept. 28: Iowa State (beat Nebraska, 36-14)
• Oct. 5: Ole Miss (upset Florida, 17-14)
• Oct. 12: Miami (beat Florida State, 28-27)
• Oct. 19: Arizona State (upset Oregon, 45-42)
• Oct. 26: Notre Dame (beat Florida State, 34-24)
• Nov. 2: Boston College (upset Notre Dame, 14-7)
• Nov. 9: Texas A&M (upset Oklahoma, 30-26)
• Nov. 16: Texas Tech (upset Texas, 42-38)
• Nov. 23: Ohio State (finished the season 13-0)