DALLAS (FWAA) – The Oklahoma Sooners, winners of the 2000 Grantland Rice Trophy, are the preseason favorite in the initial Grantland Rice Super 16 Poll as voted by the 16 pollsters of the Football Writers Association of America. Oklahoma is among four Big 12 teams in the Super 16, three of which are ranked in the Top 6.
The poll makes its debut this season and will resume in the regular season on Mon., Sept. 30 and each subsequent Monday through December 9. Following the conclusion of the Bowl Championship Series, a final poll, to be released on Saturday, Jan. 4 in Tempe, Ariz., will be used to determine the 2002 Grantland Rice Trophy winner. The FWAA has presented its national championship trophy, named in honor of the legendary sportswriter, each year since 1954. This season, however, marks the first time a season-long poll will be concurrent with the award.
Each of the 16 voters, representing four regions, not only will cast a ballot each week, but give a brief synopsis of his or her ballot. For the first time, a college football poll is making each of its pollsters' ballots public, along with the weekly synopsis.
• Click here to see how and why each pollster voted
Following is the complete preseason Grantland Rice Super 16 Poll:
School [1st Place Votes]
*W-L
Pts.
Opening Game
1.
Oklahoma [6]
11-2
240
Aug. 30 at Tulsa
2.
Miami (Fla.) [4]
12-0
231
Aug. 31 vs. Florida A&M
3.
Texas [4]
11-2
219
Aug. 31 vs. North Texas
4.
Florida State [1]
8-4
214
Aug. 24 vs. Iowa State (K.C.)
5.
Tennessee [1]
11-2
187
Aug. 31 vs. Wyoming (Nashville)
6.
Colorado
10-3
145
Aug. 31 vs. Colorado St. (Denver)
7.
Washington State
10-2
133
Aug. 31 vs. Nevada (Seattle)
8.
Florida
10-2
132
Aug. 31 vs. UAB
9.
Georgia
8-4
118
Aug. 31 vs. Clemson
10.
Washington
8-4
105
Aug. 31 at No. 13 Michigan
11.
Nebraska
11-2
86
Aug. 24 vs. Arizona State
12.
Ohio State
7-5
80
Aug. 24 vs. Texas Tech
13.
Michigan
8-4
68
Aug. 31 vs. No. 10 Washington
14.
Oregon
11-1
53
Aug. 31 vs. Mississippi State
15.
Michigan State
7-5
38
Aug. 31 vs. Eastern Michigan
16.
LSU
10-3
33
Sept. 1 at Virginia Tech

*2001 season
Also receiving votes: Louisville 30, Marshall 17, Virginia Tech 15, Oregon State 13, Maryland 8, USC 3, UCLA 2, Boston College 1, N.C. State 1, South Carolina 1, Texas A&M 1, Utah 1, Wisconsin 1.

First-place votes: Oklahoma (6: Mark Blaudschun, Dennis Dodd, Herb Gould, Vahe Gregorian, Ron Higgins, Lenn Robbins); Miami (4: Stewart Mandel, Bob Moran, Darryl Richards, Joe Schad); Texas (4: Shelly Anderson, Gregg Doyel, Ted Miller, Keith Whitmire); Florida State (1: Randy Holtz); Tennessee (1: Jay Posner).

By conference: Big 12 (4), SEC (4), Big Ten (3); Pac-10 (3); ACC (1); Big East (1).

Oklahoma received six first-place votes on its way to its preseason No. 1 ranking. Miami, which won its fourth Grantland Rice Trophy during the 2001 season, garnered four first-place votes and is ranked second in the preseason poll. Texas, Florida State and Tennessee – the only three other schools to earn first-place votes – complete the top five.
"We know how closely the football writers follow our game so we're flattered to be picked No. 1 in their poll."
– Bob Stoops,
OU Head Coach
"There are two tiers this season," said pollster Mark Blaudschun of the Boston Globe. "The Top 5 is one tier, with any of those five teams capable of winning the national championship." Blaudschun, one of four voters in the East, was among those who selected Oklahoma as his preseason favorite.
Oklahoma returns 15 starters from an 11-2 team of a year ago that lost out on a chance to play for the Big 12 title and perhaps the national title by losing at home to in-state rival Oklahoma State in the season's final week. Miami quarterback Ken Dorsey is back, but a rebuilt offensive line and a brand new defensive secondary playing against a tough schedule make the Hurricanes' return to the top a challenge.
"I like Oklahoma's defense, its record vs. top-10 teams under Bob Stoops and I like the way its schedule sets up." said Herb Gould of the Chicago Sun-Times, one of four Midwest pollsters. West pollster Bob Moran of the East Valley Tribune argues, "The king is alive! Miami is one of the few programs that sustains key personnel losses and rolls on." Moran joined three others in choosing Miami to defend its national title.
Texas brings talent, depth and speed, but an unproven record in big games. Quarterback Chris Simms has plenty of weapons, including sophomore talkback Cedric Benson and wideouts Roy Williams and B.J. Johnson.
"Texas has the best combo of offensive skill position players in the country, and some hard hitters on defense." said Keith Whitmire of The Dallas Morning News. "The only reason not to rank the 'Horns number one is their past disappointments." Whitmire is among four pollsters to tab Texas as the preseason favorite.
Florida State is coming off a four-loss season, but has Chris Rix back under center trying to prove that last season was an aberration.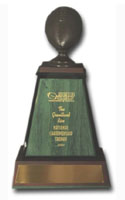 The Grantland
Rice Trophy
"Bobby Bowden and the boys are determined to make sure people around the country understand the Seminoles haven't fallen off the college football map," said Randy Holtz of the Rocky Mountain News in Denver. Holtz, a voter in the West region, was the lone pollster to pick Florida State as his preseason favorite.
Tennessee, winner of the 1998 Grantland Rice Trophy, returns Casey Clausen under center from last season season's 11-2 team. Jay Posner of the San Diego Union-Tribune likes the Vols' chances to win another title.
"Picking the top five teams wasn't difficult; putting them in order was," said Posner. "I went with Tennessee and Oklahoma as the likely Fiesta Bowl participants because their toughest games are at home, and I picked the Vols No. 1 because of their edge at quarterback."
Rounding out the Top 10 are Colorado, Washington State, Florida, Georgia and Washington. No. 6 Colorado is the only team outside the Top 5 to appear on each of the 16 ballots. Six other schools appear on 15 of the 16 ballots: Washington State, Florida, Georgia, Washington, Nebraska, Ohio State.
Nebraska, Ohio State, Michigan, Oregon, Michigan State and LSU are the remaining teams in the preseason poll.
In addition to the weekly ranking, the FWAA will name a national Division I-A Team of the Week during the course of the season, which will also be voted on by the Grantland Rice pollsters. The Team of the Week selections will begin on Mon., Sept. 2.
Both the Grantland Rice Super 16 Poll and the FWAA Team of the Week will be released through the FWAA's official website, www.footballwriters.com, part of www.sportswriters.net.
For further information contact Steve Richardson, Executive Director of the FWAA (972-713-6198, tiger@sportswriters.net) or Ted Gangi, FWAA webmaster (214-823-7992, webmaster@sportswriters.net).
Related Links:
• FWAA to debut Grantland Rice Super 16 Poll
• Grantland Rice Trophy
• Grantland Rice Trophy winners
2002 FWAA/GRANTLAND RICE SUPER 16 POLLSTERS
EAST
SOUTH
MIDWEST
WEST
Shelly Anderson
Pittsburgh Post-Gazette
Ron Higgins
The Commercial Appeal
Dennis Dodd
CBS SportsLine
Randy Holtz
Rocky Mountain News
Mark Blaudschun
Boston Globe
Stewart Mandel
cnnsi.com
Herb Gould
Chicago Sun-Times
Ted Miller
Seattle Post-Intelligencer
Gregg Doyel
Charlotte Observer
Darryl Richards
foxsports.com
Vahe Gregorian
St. Louis Post-Dispatch
Bob Moran
East Valley Tribune
Lenn Robbins
New York Post
Joe Schad
Orlando Sentinel
Keith Whitmire
The Dallas Morning News
Jay Posner
San Diego Union-Tribune