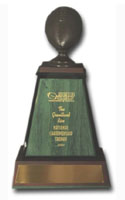 The Grantland
Rice Trophy
DALLAS (FWAA) – The Football Writers Association of America will debut the Grantland Rice Super 16 Poll this season on Friday, August 16.
The poll, which will rank the nation's top 16 teams, will then be voted upon weekly beginning after the games of Sept. 28 and released each Monday, starting Sept. 30. At the conclusion of the season, the Grantland Rice Trophy will be awarded to the FWAA's national champion, as voted in the poll.
The Grantland Rice trophy has been awarded to a national champion chosen by the FWAA since 1954, but this season marks the first time the award will have a season-long poll to decide the winner. Last season, Miami won its fourth Grantland Rice Trophy.
Sixteen FWAA members have been chosen as the inaugural voters in the poll with an emphasis on regional balance. The following is a list of the FWAA pollsters:
Shelly Anderson, Pittsburgh Post-Gazette
Mark Blaudschun, Boston Globe
Dennis Dodd, CBS SportsLine
Gregg Doyel, Charlotte Observer
Herb Gould, Chicago Sun-Times
Vahe Gregorian, St. Louis Post-Dispatch
Ron Higgins, Memphis Commercial Appeal
Randy Holtz, Denver Rocky Mountain News
Stewart Mandel, cnnsi.com
Ted Miller, Seattle Post-Intelligencer
Bob Moran, East Valley Tribune
Jay Posner, San Diego Union-Tribune
Darryl Richards, foxsports.com
Lenn Robbins, New York Post
Joe Schad, Orlando Sentinel
Keith Whitmire, The Dallas Morning News
In addition to voting, each pollster will provide a short synopsis detailing his/her vote and all individual rankings will be made public, along with the complete poll, on the FWAA's website, www.footballwriters.com. The pollsters will also select a weekly "Team of the Week" based on the previous week's games.

The poll will be administered by HiTEX! Enterprises, the FWAA's online partner. Please contact Ted Gangi (214-823-7992 or webmaster@sportswriters.net) or Steve Richardson if you would like further information.

Related Link:
• Grantland Rice Trophy