CHARLOTTE, N.C. (FWAA) – Arizona State's Terrell Suggs won the 2002 Bronko Nagurski Trophy, which is awarded to college football's best defensive player by the Football Writers Association of America and the Charlotte Touchdown Club.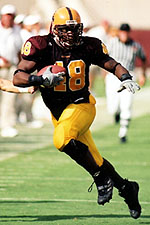 Terrell Suggs
Suggs, a junior end, was named the winner of the FWAA's 10th annual defensive award at a gala banquet on Monday night at the Adams Mark Hotel in Charlotte, N.C. The other finalists for the award were Maryland linebacker E.J. Henderson, Kansas State defensive back Terence Newman, Notre Dame defensive back Shane Walton and Georgia end David Pollack.
Suggs, 6-3, 252 pounds, led the nation in sacks this past season with 22, breaking the previous NCAA record of 17.5. He also led the nation in tackles for losses with 29.5.
"Terrell Suggs is the most dominant player I have seen on film this year," said Oregon coach Mike Belotti.
Suggs had only one tackle for loss against the Ducks, but he made the most important defensive play of the game. Suggs hit Oregon quarterback Jason Fife on the final offensive play of the game for the Ducks. The hit caused Fife to throw an interception to Arizona State's Brett Hudson. The interception secured the Arizona State victory.
"Terrell Suggs was unstoppable," said Washington coach Rick Neuheisel.
Suggs had 4.5 sacks against the Huskies. That was the most by a Sun Devil since Derrick Rodgers, a former Nagurski finalist, had 4.5 sacks against California in 1996.
Suggs' 29.5 tackles for loss during the 2002 season surpassed the Pacific-10 Conference record of 28, which was held by Stanford's Ron George (1990). During the 2002 season, Suggs also had one interception and returned it 22 yards and forced six fumbles. Suggs is the first Pac-10 Player to win the FWAA Defensive Player of the Year award since Arizona's Rob Waldrop won the inaugural award in 1993.
Suggs has had an illustrious career at Arizona State. He started as a true freshman in 2000 and was one of the best pass rush specialists in the country. Last season, as a sophomore, he was The leader of the Sun Devil defense and was first-team All-Pac-10. He started all 11 games, had 42 tackles, 24 unassisted and added 18 tackles for loss totaling 79 yards.
A native of Chandler, Ariz., Suggs, during his career, has 63.5 tackles for 317 yards in losses, or more than the length of three football fields. He has 42 sacks for 267 yards of those losses. He holds Arizona State records in single-season sacks and career sacks and school records for single-season and career tackles for losses.
Related Links:
• Charlotte Touchdown Club
• Five finalists chosen for Nagurski Trophy