CHARLOTTE, N.C. (FWAA) – The Charlotte Touchdown Club has announced University of Miami Football Coach Larry Coker as this year's keynote speaker for the annual Bronko Nagurski Trophy Banquet, to be held December 9, 2002 in Charlotte to honor the nation's best all-around defensive college football players and local aspiring athletes.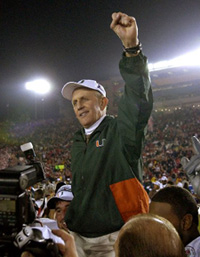 Miami head coach Larry Coker
In 2001, Coker went 12-0 in his first season at the helm. He not only took the Hurricanes all the way to an undefeated season and a national championship, he led the team to the most dominant season in Miami's rich football history. That dominant season not only earned Miami players and coaches numerous honors and awards, it earned Coker The Paul "Bear" Bryant National Coach of the Year Award and various other honors.
Miami's quest for supremacy in college football was put in the able hands of one of the nation's most accomplished assistant coaches when Coker was named the school's 19th head football coach on February 3, 2001. Coker's hiring marked the first time in 25 years that the University of Miami looked to one of its own when finding a football coach.
Known for the values his program reflects: integrity, consistency, hard work, poise, class and dignity, Coker will speak to an estimated audience of over 1,000 at the December 9th Bronko Nagurski Trophy presentation at the Adam's Mark Hotel.
"We are thrilled to have Coach Larry Coker come to Charlotte for our annual banquet," said Bronko Nagurski Chairman Dave Myers. "His outstanding reputation as a coach on and off the field for more than 32 years is the perfect match for the Charlotte Touchdown Club and the Bronko Nagurski Trophy."
The Charlotte Touchdown Club each year recognizes local high school athletes with scholarships and awards and honors area collegiate football players, as well. The Bronko Nagurski Trophy, presented in conjunction with the Football Writers Association of America, is awarded to the top all-around defensive college football player in the country and has been presented since 1995. Last year's recipient, Roy Williams, was a University of Oklahoma defensive back and the Dallas Cowboys top draft pick this year.
For reservations call 704-347-2918.