SCOTTSDALE, Ariz. (FWAA) – Maryland's Ralph Friedgen claimed the 2001 FWAA/Eddie Robinson Coach of the Year Award on Thursday night during a banquet and Fox Sports Net television show from The Phoenician Resort.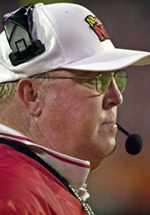 Ralph Friedgen led Maryland to its first ACC title and bowl berth since 1985 (AP)
The Football Writers Association of America Coach of the Year Award is named after the legendary Robinson, who has won more games than any coach in college football history – all at Grambling State University. The FWAA has presented a Coach of the Year Award since 1957.
Washington State coach Mike Price, the 1997 FWAA Coach of the Year, and Illinois Coach Ron Turner were the other finalists. The winner was selected by vote of FWAA members.
Friedgen is the first coach from Maryland to win the award and the first ACC coach to capture the award since Georgia Tech's Bobby Ross in 1990. He is also just the second first-year head coach to win the award. Tom Cahill was the FWAA Coach of the Year in his first season as a collegiate head coach at Army in 1966. Friedgen is also just one of eight coaches to earn FWAA Coach of the Year honors in his first season at his school.
Friedgen led Maryland to its first ACC title in 16 years during the 2001 season. In his first year as a head coach, Friedgen guided his alma mater to a 10-1 record and a berth in the Orange Bowl where the Terrapins lost to Florida. The Terrapins notched 10 victories for only the fifth time in school history.
Friedgen was an assistant for 32 years before he became coach of the Terrapins a year ago. He came to Maryland from Georgia Tech where he served for four years as the offensive coordinator. Friedgen also served as Bobby Ross' offensive coordinator at Maryland from 1982-86.
Related Links:
• FWAA/Eddie Robinson Coach of the Year Award
• FWAA awards calendar
• Eddie Robinson Foundation