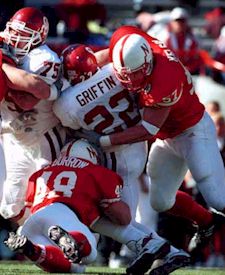 Nebraska's Jamie Burrow (48) had a career-high 17 tackles in the win over Oklahoma (Scott Bruhn/huskers.com)
DALLAS (FWAA) – Nebraska's senior linebacker Jamie Burrow was named the Bronko Nagurski Defensive Player of the Week on Monday by a panel of FWAA members.
The FWAA (Football Writers Association of America) and the Charlotte Touchdown Club pick a Defensive Player of the Week each Monday during the regular season. Burrow will be added to the Watch List for the Bronko Nagurski Trophy which will be presented on Dec. 10 in Charlotte, N.C., by the FWAA and the Charlotte Touchdown Club.
Burrow recorded a team- and career-high 17 tackles, including seven unassisted tackles in the Cornhuskers' 20-10 victory over Oklahoma. Burrow added two tackles for losses, including a sack for minus-12 yards and had one of the team's 14 quarterback hurries. He also helped Nebraska hold the Sooners to 339 ' offense yards, including 105 yards rushing.
2001 Bronko Nagurski Players of the Week:
• Sept. 10: James King, Central Michigan
• Sept. 24: Julius Peppers, North Carolina
• Oct. 1: Dan Dawson, Rice
• Oct. 8: Roy Williams, Oklahoma
• Oct. 15: E.J. Henderson, Maryland
• Oct. 22: Bob Sanders, Iowa
• Oct. 29: Jamie Burrow, Nebraska
• Nov. 5: Jermaine Petty, Arkansas
• Nov. 12: Eugene Wilson, Illinois
• Nov. 19: Jermaine Petty, Arkansas
Related News:
• Sept. 24: Charlotte Touchdown Club changes award date