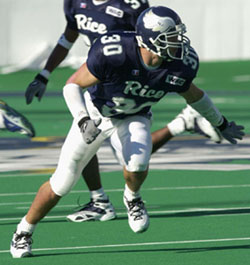 Rice's Dan Dawson returned an interception for a score and blocked a field goal as part of his 14-tackle effort vs. Hawaii (Rice SID)
DALLAS (FWAA) – Dan Dawson, a senior linebacker from Rice, was named the Bronko Nagurski Defensive Player of the Week on Monday by a panel of FWAA members.
The FWAA (Football Writers Association of America) and the Charlotte Touchdown Club will pick a Defensive Player of the Week each Monday during the rest of the regular season. Dawson will be added to the Watch List for the Bronko Nagurski Trophy which will be presented on Dec. 10 in Charlotte, N.C., by the FWAA and the Charlotte Touchdown Club.
Dawson had 14 tackles (eight unassisted), including four for 16 yards in losses in the Owls' 27-24 victory over Hawaii. He made one of the biggest defensive plays of the game came when Rice trailed, 24-14, late in the third quarter. Dawson intercepted a pass and returned it 74 yards for a touchdown. He also blocked a field goal and broke up another pass.
Defensive back James King, a redshirt freshman from Central Michigan, won the first weekly award this season. North Carolina's junior defensive end Julius Peppers claimed the second weekly award with his performance in the Tar Heels' shocking 41-9 victory over Florida State.
2001 Bronko Nagurski Players of the Week:
• Sept. 10: James King, Central Michigan
• Sept. 24: Julius Peppers, North Carolina
• Oct. 1: Dan Dawson, Rice
• Oct. 8: Roy Williams, Oklahoma
• Oct. 15: E.J. Henderson, Maryland
• Oct. 22: Bob Sanders, Iowa
• Oct. 29: Jamie Burrow, Nebraska
• Nov. 5: Jermaine Petty, Arkansas
• Nov. 12: Eugene Wilson, Illinois
• Nov. 19: Jermaine Petty, Arkansas
Related News:
• Sept. 24: Charlotte Touchdown Club changes award date